Welcome,
discover our hens
of the best quality
At PLUVERA we are specialized in the slaughter and cut-up of spent hens. Thanks to our motivated staff, years of experience, modern slaughterhouse, and extensive logistic network we are able to supply the very best hens to our customers all over the world.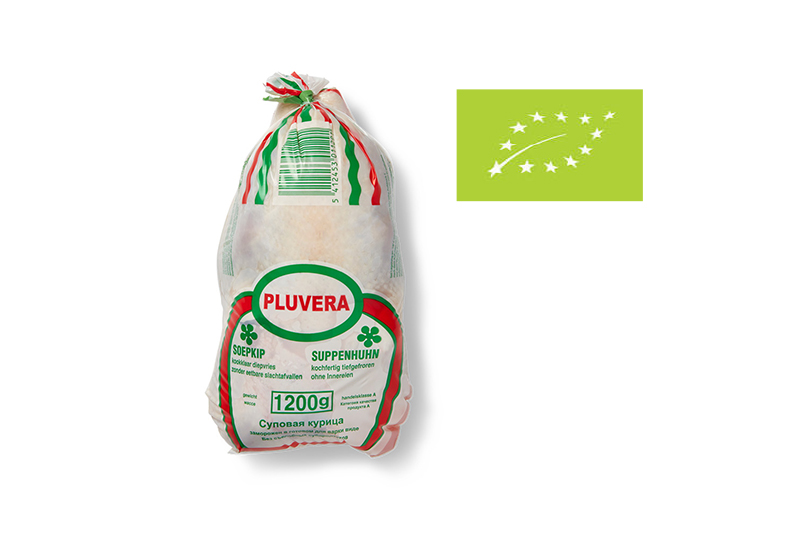 Product in the spotlight
ORGANIC HEN
* The organic hen, including neck, is eviscerated frozen without giblets
* Individually packed in printed PE bags, with barcode
* Expiry date at -18°C : 24 months, is indicated on the bag
* Production date is indicated on the bag and the carton
* EC number of agreement, BE E3002 EG, is indicated on the bag and the carton
* Extra label mentioning "organic hen BE- bio-02 EU agriculture"
* Weight range : 1000-1100-1200-1300 g
* Pieces per carton : 10
How to prepare the PLUVERA hen - African Cuisine
Ingredients:
1/4-1/2 cup oil
750 gr PLUVERA hen cut in pieces
5-6 roma tomatoes
1 medium onion sliced
1 teaspoon minced garlic
1,5 teaspoon dried thyme
1 tablespoon paprika powder
1/4 teaspoon curry powder
1 bay leaf
1 tablespoon maggi or bouillon granules
2 green onions
3 tablespoon parsley
1-2 cups of sliced carrots
salt and pepper to taste
Instructions :
Season Pluvera hen with salt and pepper.  Set aside.
In a large pot, heat oil over medium heat, until hot, and then add the hen and start stirring,
frequently, any browned bits of the bottom of the pot, until the hen is brown.
Blend the fresh tomatoes, carrots, onions and the garlic.  Pour the blend in the pot, bring it to a boil and let it simmer until tender about 20-30 minutes, frequently stirring the saucepan to prevent burns.  Make a blend of the curry powder, paprika powder, thyme, bay leaf and bouillon granules.  Add this to the pot, bring it to a boil and let it simmer for about 20-30 minutes.  Add about 2 cups of water.
Add green onions and parsley.  Cook for another 5 minutes.  Season with salt according to preverence.  Remove bay leaf.
Ready to serve !